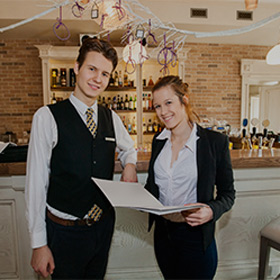 This service offers no up-front capital investment from you, and Walk-on Dust is responsible for all aspects of managing your uniform program.
Our rental uniform program offers great value for businesses in different sectors such as manufacturing, food service, hospitality and more. We supply uniforms for your employees and provide full maintenance of them. With no up-front capital investment from you we will launder/repair and return uniforms to your facility on a regular basis to ensure your company image is professional, trustworthy and memorable.
We also offer you a program when you purchase the uniforms from us and we take care of cleaning them.
We take care of your uniform needs so you can concentrate on your business! Please give us a call to find out more about this service!
Some Interesting Facts:
A survey, conducted by J.D. Powers & Associates, indicates how much value customers place on the presence of a uniform while making a purchase decision. The study states that, "the majority of consumers believe employees in uniform have positive personal characteristics." This study also revealed that business-to-business respondents indicated strong preferences for uniforms in almost every setting.
Proudly providing uniform rental services in Dunnville, Haldimand County, Hamilton, Burlington, Oakville, Niagara, Brantford and surrounding Regions.